Before I jump into
Responsive Web Design
, I'm going to ask you, dear readers, to enter the database of information that is your brain. I want you to recall a certain individual I mentioned during the
holiday
season,
the stressed shopper
. They were alone, scared, and desperate to fill the hearts of their loved ones with Christmas delight in the form of beautiful objects. One of the factors I mentioned that added to their stress was poor web design that was not mobile friendly while they were on the go. [caption id="" align="aligncenter" width="235"]
Stock photo or no, this is not an over exaggeration.[/caption] The horror! I may sound dramatic, but in 2016, it is a legitimate horror and a business killer. So what's happening here? Well, they were not using
responsive web design
, something that has been around in the world wide web for many years, but astonishingly, isn't fully utilized. This results is those hair pulling websites on a mobile. The ones you are forced to zoom in to see the content, accidentally pushing ten different incorrect commands until you either give up on your task, or denounce the internet forever.
What is Responsive Web Design? 
Responsive design refers to device and user adaptability. Jerry Cao describes Responsive Web Design as design that "responds to the user's viewport, device, or platform. Essentially, it's a design that can attractively acclimate to any screen resolution." But it goes further than this. Responsive web design pertains to fluid grids, flexible images and centres around a mobile first approach. Since we don't seem to be putting down our phones anytime in the near future, it's remained a successful and relevant strategy. [caption id="" align="aligncenter" width="660"]
"Honey, I'm not going to repeat myself. Sunsets happen every freaking day. JENNIFER LOPEZ WARDROBE MALFUNCTIONS DO NOT!"[/caption]
How does Responsive Design fit into Modern Design Trends? 
"But I want my website to be the most beautiful," you cry to the gods of the internet. "How can I do so if I'm forced to design my website for tiny mobile screens?" The thing is, modern web design trends already correspond with the consideration of the smaller screen. 
Simplicity
 is king in modern design. Elegant design examples are everywhere, featuring dynamic typography, scrolling options with a set, attractive background, or Flat Design 2.0 beautifully described in this animation by Ryan Allen. Flat Design features subtle 2-D animations, simple enough to be rendered as SVG (Scalable Vector Graphics) with support for interactivity and animation with faster loading times. Check out fellow Canadian AWWWARD winner with their stunning flat design travel website. [caption id="" align="aligncenter" width="1423"]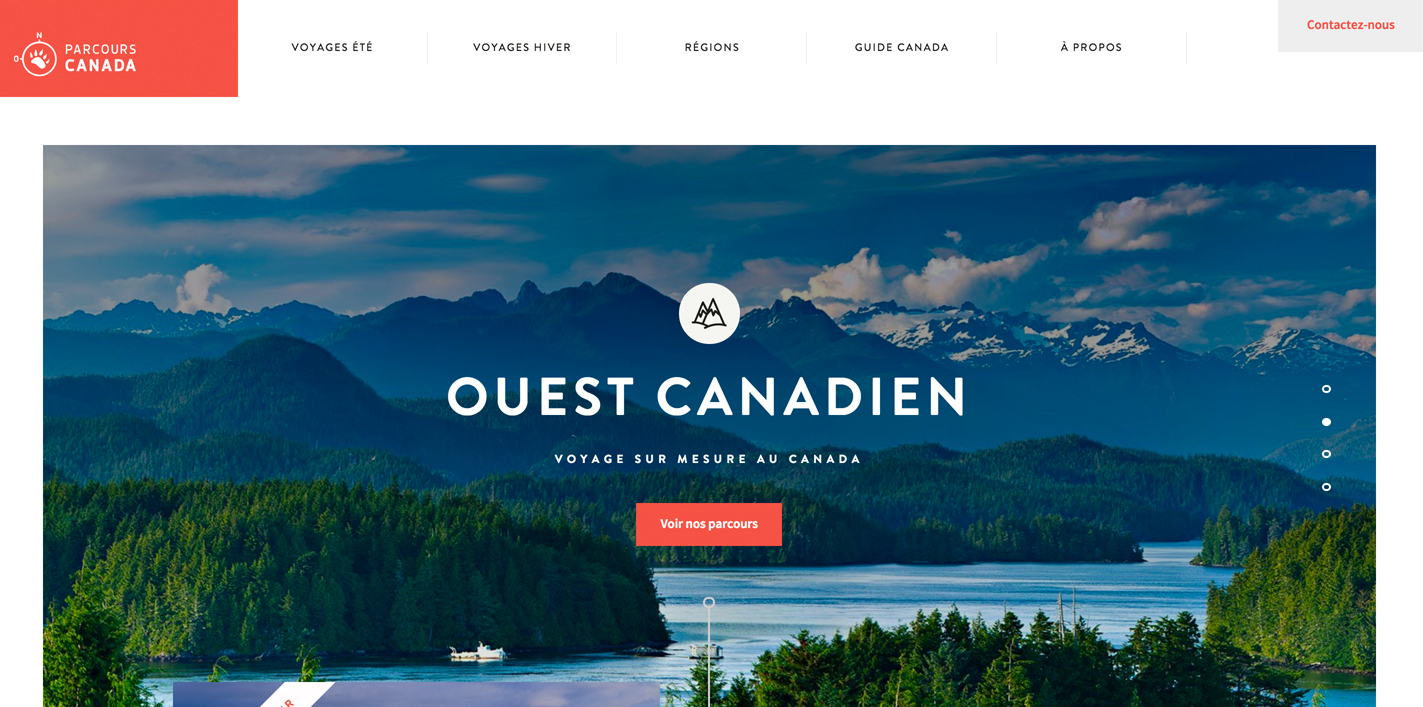 It almost doesn't matter that you can't speak the language, it's that user friendly.[/caption] Material Design, though more complex than flat design with its appearance of depth, shadow and movement, is rooted in the idea of simplicity as well. These designs are not only for mobile apps, and are so efficient that google is encouraging these methods for websites with their program Material Design Lite. In fact, Google is cracking down on those who aren't creating mobile friendly content, further incentive for you and your company to... respond accordingly (I couldn't resist).
If everyone is designing their websites with this in mind, how do I set mine apart?
[caption id="" align="aligncenter" width="1024"]
Hey check it out, it's even colour coded, for easy adult usage.[/caption] The limitations that these considerations set on designers has forced them to think outside the box, and then design a more simple and beautiful version of said box. There are countless examples of modern designs that have faster loading times, are more user friendly and are just straight up gorgeous. Check out these other AWWWARD winners if you're looking to have your socks blown clean off. So start creating a vision board of the colours, images and functions you'd like to see for your customers. It's 2016, the future is nigh, and the possibilities are endless. It's a very exciting time for innovative design, so make sure you're a part of it.